Our Business Philosophy
We aim to be the most cost effective service provider to the client, working in a safe and dilligent manner to keep costs down and constantly review our contracts to suggest further synergy improvements; and lower our cost base.We prefer to be viewed as a long term provider who can be relied on to give THE BEST VALUE & REPEATED GOOD PERFORMANCE.
Our Company
The business was started by Edward Hanson when the British steel industry was at its largest configuration. His speciality was Blast Furnace Demolition and Manpower provision as well as starting the Vacuumation and Water Jetting interests. The company has grown and developed and after a management buyout it has changed its focus to providing contractual services in support of industry. We have kept some of the initial founding elements in our portfolio, but in a changing environment we have developed other skills such as site maintenance, cooling tower maintenance,Rework Stations and even manning up existing production lines, reverting to housekeeping or site maintenance duties when the need for production enhancement diminishes.
All our operations are carried out to the exacting standards of our ISO9002 procedures; performance is monitored and accountable at all levels.
Our Employees
We train our employees to your exacting job requirements. we ensure high safety standards, and good on the job practices. CITB,& Passport To Safety is incorporated where required as are other site specific skills. Our employees have many wide ranging skills, and our managers are all trained to IOSH standards.
Whilst we now have a substantial amount of Plant & Equipment to service our clients, we are still very much a people based company. We value our employees skills, who in turn have a very real client based focus; looking to improve their performance and prevent waste and accidents.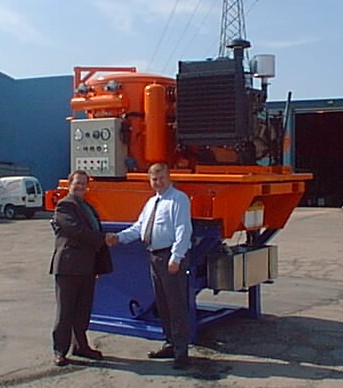 Our Vacuumation Manager Russ Kilmore is pictured above (Right) taking delivery of a new 800 Series 75HP diesel powered portable Industrial Vacuum Unit from RENVAC